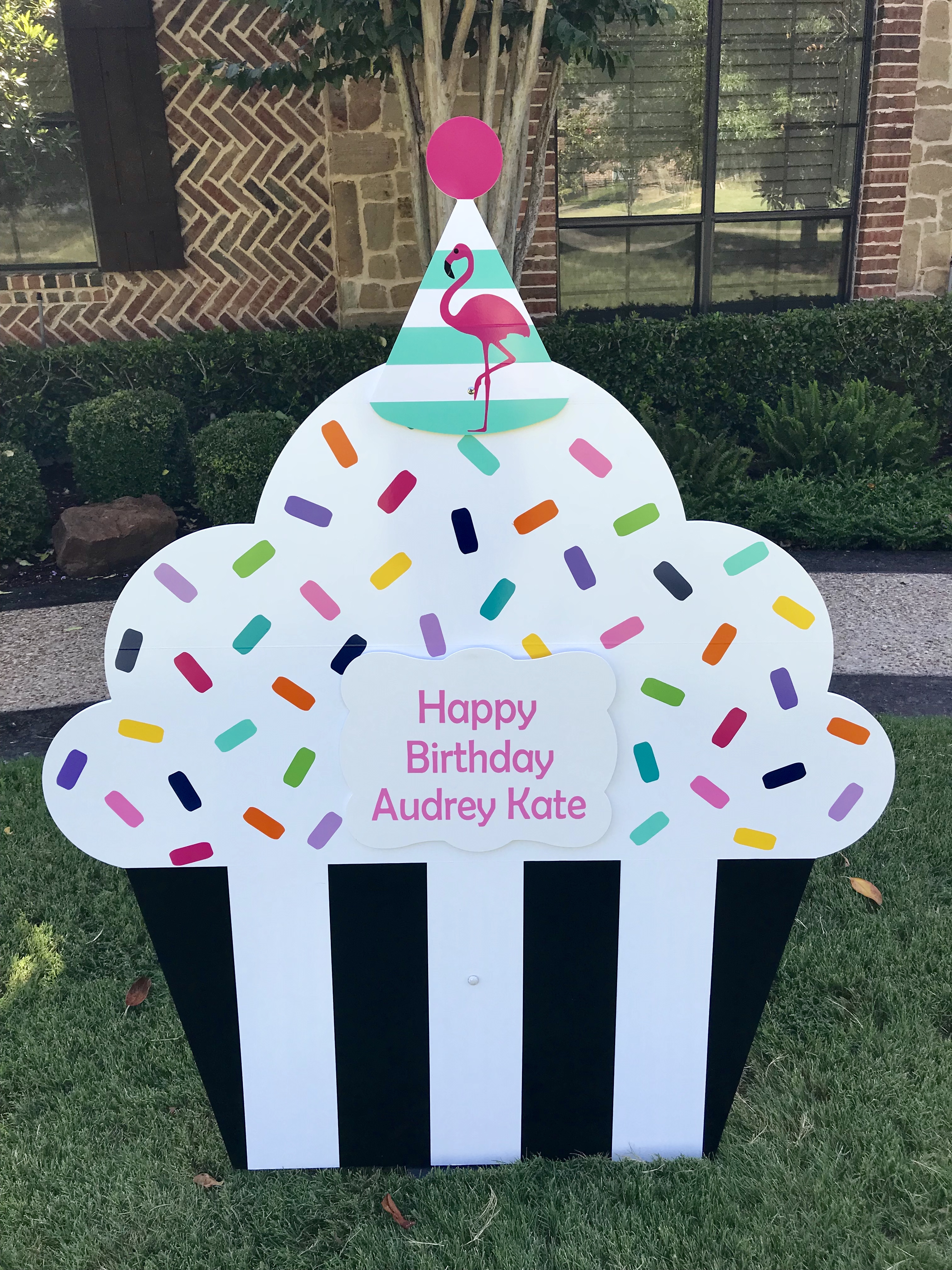 Lets Flamingo with the Black and White Confetti Cupcake! So excited to deliver this cupcake for Audrey Kate's birthday! Flamingos are SO popular right now and this cupcake looked great with the mint flamingo cupcake topper.
Call Storks & More of Dallas to rent a Stork Lawn or Birthday Sign for your new baby, friend, or yourself!
We serve the Dallas, TX areas, including Dallas, The Colony, Prosper, Frisco, Plano, Richardson, Carrollton, McKinney, Allen, Celina, and Lewisville.
Call us at 270-776-1104 for more information or to book your stork or birthday sign rental today!
Please visit us on FB and Instagram to see our most current rentals.
Tagged with: 
13th Birthday
, 
18th Birthday
, 
1st Birthday
, 
21st Birthday
, 
Abilene stork rental
, 
adoption announcement
, 
adoption celebration
, 
airplane
, 
Allen
, 
babies
, 
baby announcement
, 
baby shower stork sign
, 
Baby Signs
, 
baby stork rental
, 
baseball
, 
birth announcement
, 
birthday cake signs
, 
birthday cupcake yard sign
, 
birthday lawn sign
, 
birthday party
, 
Birthday Signs
, 
boy
, 
boy birthday
, 
Buffalo Gap
, 
bundle of joy
, 
butterfly
, 
Carrollton
, 
childrens birthday
, 
classy stork signs
, 
Collin county
, 
cowboy
, 
cowgirl
, 
custom yard sign
, 
cute storks
, 
dad
, 
Dallas county
, 
Dallas Stork rental
, 
Dallas Yard Greetings
, 
delivery
, 
Denton county
, 
dump truck
, 
expectant mother
, 
fire engine
, 
First Birthday
, 
football
, 
Frisco
, 
frozen
, 
garden party
, 
gender reveal party
, 
gender reveal stork sign
, 
gift
, 
girl
, 
girl birthday
, 
grandchildren
, 
grandparents
, 
Happy Birthday
, 
ice cream cone
, 
kids
, 
kids birthday
, 
lawn display
, 
lawn greeting
, 
lawn greetings
, 
lawn signs
, 
Lewisville
, 
Lucas
, 
McKinney
, 
mom
, 
nautical birth announcement
, 
new baby
, 
new mother
, 
newborn
, 
Parker
, 
Paw Patrol Party
, 
personalized stork
, 
pink flamingo
, 
Plano
, 
Potosi
, 
princess crown
, 
Prosper
, 
Richardson
, 
Rockwall
, 
Rowlett
, 
sailboat sign
, 
sibling sign
, 
sibling star
, 
snowflake
, 
sports party
, 
stork baby sign
, 
stork birth announcement
, 
stork display
, 
Stork Lady
, 
stork landings
, 
stork lawn sign
, 
stork sign
, 
stork yard sign
, 
Storks & More of Dallas and Abilene
, 
Sweet 16
, 
Sweet Sixteen
, 
Texas babies
, 
Texas Storks
, 
the Colony
, 
Tuscola
, 
Tye
, 
Yard Candy Signs
, 
yard card
, 
yard display
, 
yard greeting